Posted on
By S. Wyatt Price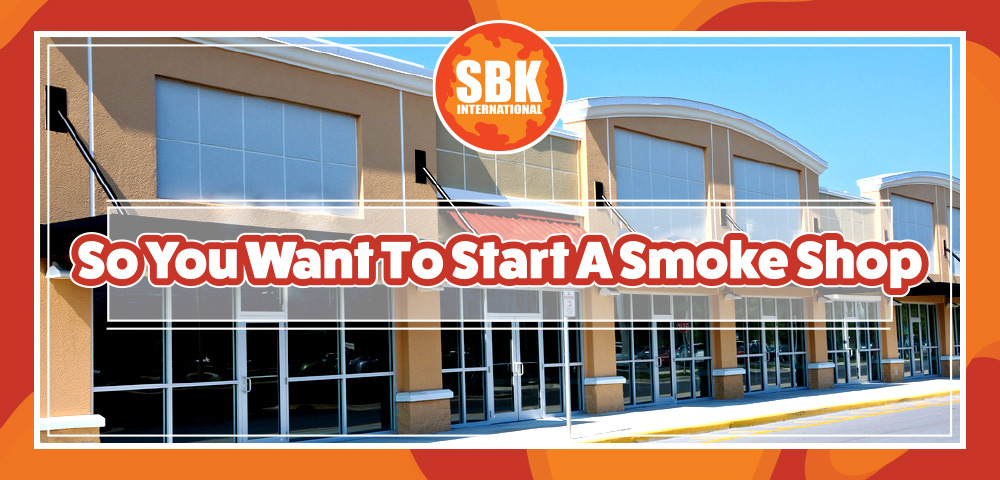 A brief key guide to starting your own smoke and vape store and the potential risks and benefits that come with it.
Vaping began to overtake smoking in the early 2010's when it appeared as a flavorful alternative to smoking or as a non-smoking agent. By 2020 the number of new vapers was beginning to rival smokers, though the United States national average still sat at about 34 million cigarette smokers vs 8 million vapers. Maybe you've noticed all of the smoke and vape shops popping up around your city or town and if you're a business owner you've probably asked yourself how profitable could one of these ventures actually be. Before we get down to the numbers, let's take a look at what a vape store is and what opening one entails! 
What is a Vape Shop?
A smoke and vape shop can be a myriad of product combinations that include hookahs, e-cigarettes, water and hand pipes, cigarettes, cigarillos, and all sorts of dry herb and concentrate devices. Most recently, these shops feature less actual tobacco and more electronic cigarette devices and juices, but either way the profit margins continue to grow drastically as more and more people are switching to vapes or e-cigarettes. 
A smoke shop is essentially a retailer that offers all of the aforementioned products in brick and mortar form. But moreso, you're creating a destination for smokers regardless of what they smoke. If it's hookah you've erected the Hookah Palace, if it's glass water and hand pipes you've got the wildest headdies AND the best spoon pipes. Product knowledge pays dividends in these fields because there are many fanatical fans about certain glass makers or brands or, simply, consumers have just been buying a certain product for years. Either way, being able to talk shop with your customers Will absolutely win them over.
Even If You Don't Smoke, You Smoke
This is the advice I've been given by many in the medical cannabis industry and I'm going to apply it here too because after review by many of my colleagues they also agree. It's simple: even if you don't smoke, you smoke. I can't tell you how many sales have been lost because when asked about a product, an employee responded with "oh I don't smoke". For smokers of every variety you've pretty much lost any credibility when you answer with these words, but can you blame them? It's like trying to sell wine or a good bourbon, but when you get to the table you say "oops I don't drink". You have no experience or information on the subject, therefore you have nothing valuable to say. So remember, even if you don't smoke, you smoke!
Set a Budget, Make a Business Plan, Analyze Your Market
In order to succeed in business, it's great to start by mapping out a business plan to get an idea of who you are, what you offer, and how you offer your service or product. Even if you're business plan isn't exactly to your liking, that's okay! Along this process I can almost guarantee you that there will be adaptations and alterations made to your initial idea throughout this entire process. The following bullets are great starting points for beginning your business plan. 
Who are you?
What do you intend to sell?
How do you intend to sell it?
Analyze your market.
How will you be different than your competition.
Plan of operations and idea of who will head each department.
Spitball some marketing strategies you intend to utilize.
Projected cash flow.
Stay in check with a burnout rate if necessary.
These are just some ideas, but there are other websites that provide more detailed outlines for starting your smoke and vape shop if you find that necessary. As well, make sure to give yourself some cushion in the budget because there is always the chance for an accident, incident, or a simple confusion of numbers and it's important to make sure your end is covered. This is to insure that a minor stoppage won't become the end of your business. 
Total Cost of Starting a Smoke Shop
Registering a national business – $750.
Legal expenses for obtaining licenses and permits plus accounting services – $1,200.
Marketing promotion expenses for the grand opening of the smoke and vape store in the amount of $3,500 and as well as flyer printing (2,000 flyers at $0.04 per copy) for the total amount of – $3,580
The cost for hiring business consultant – $2,500.
Insurance (general liability, workers' compensation and property casualty) coverage at a total premium – $2,400.
The cost of accounting software, CRM software and Payroll Software – $1,500
The cost for payment of rent for 12 months at $1.76 per square feet in the total amount of – $35,600.
The cost for shop / facility remodeling – $25,000.
Other start-up expenses including stationery – $500
Phone and utility deposits – ($2,500)
Operational cost for the first 3 months (salaries of employees, payments of bills et al) – $30,000
The cost for start-up inventor – $16,027
Storage hardware (bins, utensil rack, shelves, glasses case) – $3,720
The cost for counter area equipment (counter top, sink, ice machine, etc.) – $6,000
The cost for serving area equipment (glasses, flatware) – $3,000
The cost for store equipment (cash register, security, ventilation, signage) – $3,150
The cost for the purchase of office furniture and gadgets (Computers, Printers, Telephone, TVs, Sound System, tables and chairs et al) – $8,000.
The cost of launching a website – $600
Miscellaneous – $2,500
TOTAL COST: $148,527
Let's Get Down to Licensing
Since the minimum age to purchase tobacco or vape products raised from 18 to 21 years of age, the licensing has also changed. Previously, a simple tobacco license in the state of Georgia would have sufficed, but now smoke shop owners are being asked to amend their status in order to include vapes in their licensing. This is mostly for tax purposes, as taxes on vape devices have been adopted to meet with the current market pace. 
So according to the Georgia Department of Revenue, "New Registration and Licensing Requirements for Alternative Nicotine Products and Vapor Products: Senate Bill 375 requires all manufacturers, importers, distributors and dealers/retailers of alternative nicotine products or vapor products to register and obtain a license from the Department of Revenue. Manufacturers, importers, distributors, and retail dealers are required to submit an application and pay registration and/or licensing fees through the Georgia Tax Center application portal, which will be available beginning February 15, 2021."
Remember that this is a heavily regulated industry with heavy fines and penalties for doing business incorrectly so I encourage you to go beyond this article and do your own research, as this is a rapidly changing and growing market. As well, this doesn't cover national or international markets, the aforementioned licensing is strictly in regard to the state of Georgia.
Business Bank Account + Tax Registration
There are a few options to consider when starting a business and the best four for smoke and vape shops are as follows:
Sole Proprietorship: Single owner.
Partnership: Two or more owners investing together and splitting costs.
Limited Liability Company (LLC): This is the best suggestion for a single owner because it affords more protections because your taxes are intertwined with your business, whereas a corporation is a separate entity.
Corporation: No actual single owner, but usually ran by a board and taxes are paid as a corporation instead of as a contingency of your own personal taxes.

 
Tax registration is crucial because you don't want Uncle Sam coming after you right as you get on your feet. As well, your federal tax ID allows you to pay your employees and have their wages taxed at the end of the year. This is necessary if you want to have non-1099 employees.
Choose a Business Name & Register It!
Don't overthink this one! Branding is everything so think about a name that's flexible, memorable, and marketable. Brainstorm with your trusted group to see which name ideas would work best. When you're registering the name, it's necessary to check it against the current registry so you avoid similarities with other brands. 
As well, this is a great opportunity to start developing a website and registering your domain name. In the modern day and age, brick and mortar locations are still great, people have to get their goods, right? But without an online presence you're minimizing the amount of business you COULD be doing. An online store would compliment your brick and mortar location nd you may find that you're going significant numbers in that realm, too. 
Lastly, when or if you register as an LLC, you can register the business in your name while operating under a DBA, which is a "doing business" name. When you're doing this, though, understand that this DBA does not protect you form copy-write infringement and further protection must be sought from the U.S. Trademark and Patent Office. 
Smoke Shop Insurance
Getting into business without insurance is more than foolish and will undoubtedly get you into trouble if not sooner, later. The proper insurance is crucial, especially in the realm of smoke and vape stores, as you take on a lot of liability in taking on such of endeavor.
Make sure you get the insurance required by your state for your business itself and don't forget worker's compensation just in case someone gets injured on the job. 
Location, Location, Location
Besides product knowledge, choosing a location for your smoke and vape shop is a primary factor in your overall success. When you're choosing your location, areas of high foot traffic are heavily recommended, though you don't have to put your smoke shop in a strip mall like everyone else!
As the national age for tobacco has risen, certain areas may not make as much sense to place your smoke and vape shop so make sure you've taken that into consideration as well. 
Hire Passionate People
When it comes to hiring team members, it's important to hire people you can rely on and trust. A piece of advice I heard early on was that selling an idea was much more valuable than selling a product. So if you've got your team sold on the idea behind your smoke shop and they believe in your products then you're going to go much farther than the owner with disheartened or passive employees. 
Figure out what your employees specialities are and put them in those positions! If you've got an employee that's good with numbers, boom: inventory. Another employee that's specialty is talking to people, there ya go: sales. I could go on forever but I think you get the idea. Motivation and passion are key elements to insuring the success of your endeavor. 
Let's Talk Marketing
Going into this area blind or uneducated is not acceptable with the internet as a resource! Aside from researching your own marketing tactics, here is a baseline to help you get started. Remember, a lot of these may seem simple, but perfect execution will lead to scores of new and returning business. 
Start your social media accounts (the more, the better!)
Start a website and a blog
Set up your business on Google Business and provide accurate information people can find your store.
Research allow brands in similar markets and take notes
Events and grand openings could play a key role in getting your business started.
For now, this is probably all you should do unless you already have a strategy in mind or a specialist on hand. 
Set Short & Long Term Goals
As you grow and your business begins to prosper, you need to change your list of goals because they've definitely changed since you decided to open a business. Inventory and sales aside, if you don't keep your business fresh it could be dead before you even begin. Checking in with yourself and your staff is a great way to make sure you're on track. As well, if you have access to a trusted (preferably older) mentor this another thing to take advantage of, though I understand that not everyone has access. 
Once business gets rolling, checking in with your store staff to see what sells the most and what items customers want is a great way to stay ahead of the curve. Often times customers will tip you off regarding trends or highly anticipated drops. 
The Future is Now!
It can prove beneficial down the road to experiment with innovation, citing the vape or e-cigarette takeover as a prime example. Don't get lost in trying to find the next best thing, but as I previously mentioned keeping an ear to your customers is one of the ways you can stay ahead of the market and possibly prepare your store for the hottest new products available. 
Make sure to check out our latest blogs!